* Brand New for 2004, Introducing The New *


Range of Pre-amps & Sound Effects Units
Pre-amp control units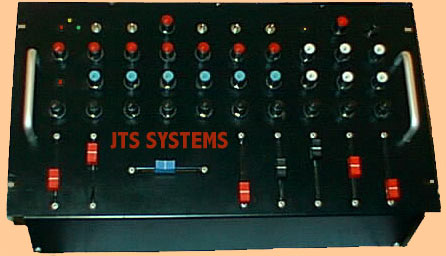 Features common to all Models
19" RACK MOUNTING / HEAVY DUTY STEEL CONSTRUCTION
INTERNAL 3 WAY ACTIVE XOVER WITH CUT OUT SWITCHES FOR BASS, MID AND TREBLE.
3 WAY OUTPUTS WHICH CAN BE LINKED TO PLAY 2 WAY OR STRAIGHT.
MASTER BASS, MID AND TREBLE LEVEL CONTROLS.
10 BAND GRAPHIC EQUALISER.

PARAMETRIC EQUALISER ON BASS AND MID FREQUENCIES.
2 DECK/PHONO INPUTS WITH CROSSFADE.
LED INDICATORS FOR ACTIVE BASS, MID AND TREBLE.
2 SETS OF ECHO SEND AND RETURN CONTROLS.
SEPARATE MIKE / EFFECT INPUTS.
TAPE / LINE INPUTS AND OUTPUTS.
HEADPHONE MONITOR.
SOUND EFFECTS UNITS
New -- SSE Sound Effects Unit
Also the Original SE10 Effects unit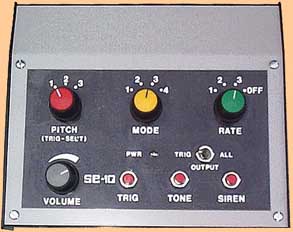 SMALL SELF CONTAINED MAIN POWERED UNITS
EASY TO OPERATE
MANY VARIATIONS OF EFFECTS, SIRENS, TONES, PULSES etc.
FEATURING MANY OF THE TRADITIONAL SIREN EFFECTS
PLEASE CONTACT US FOR FULL TECHNICAL SPECIFICATIONS,
OR IF YOU HAVE ANY SPECIAL REQUIREMENTS

WE SHIP WORLDWIDE